You can also change a check's status and severity level in bulk to easily manage multiple vulnerabilities.
To manage your vulnerabilities in bulk: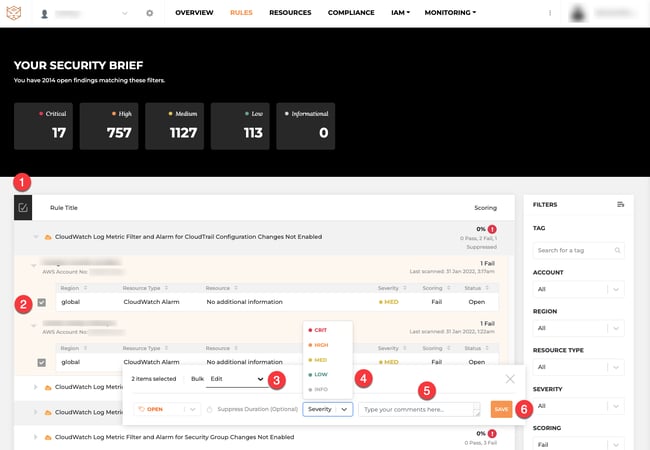 1. Click on the checkbox on the left side of the Rules View table.
2. Click on the checks you want to edit. Note that you can only do bulk Vulnerability Management with checks within the same Rule.
3. Select Edit on the dropdown list.
4. Select the Severity drop-down list located at the bottom of the dialog box and hover over the level you want it to be.
5. If you want to add notes to justify the severity change, click on the Notes button right beside the severity level you chose.
6. Click on Save Changes if you just want to edit the Severity. Otherwise, move to the next step.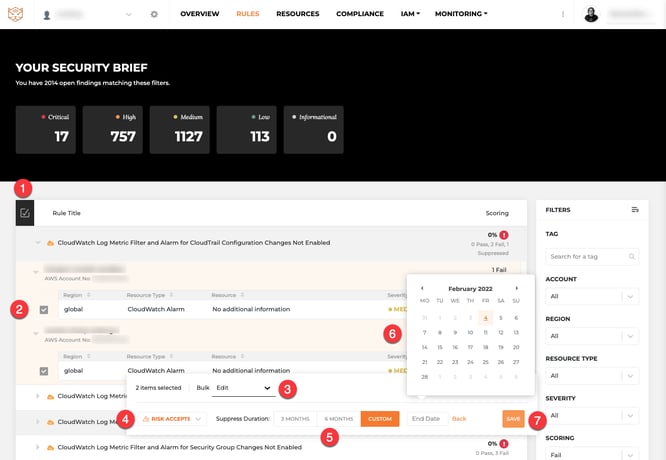 7. Repeat Steps 1-5 for the Status drop-down list right beside the severity drop-down list.
8. If you select Risk Accepted as the Check's Status, you get the option to select a Suppress Duration time. To enable suppression, select between 3 months, 6 months, or a specific date using the date picker.
8. Click on Save Changes.
You will see an Activity Log entry with the corresponding bulk status change on it.
Checks marked with the status you configured for that finding will remain in the same status on future scans, except for Risk Accepted checks set with a Suppress Duration (see Vulnerability Management Suppression for more information).
Note: If you activate Bulk Editing mode, you will not be able to edit checks one-by-one.